DIY Magical Unicorn Cupcakes
Affiliate Disclaimer: This page may contain affiliate links, which means we earn a commission when you buy through our link (at no additional cost to you). As an Amazon Associate, I earn from qualifying purchases. Read our full Disclosure Policy.
Do you love unicorns and all the pretty sparkles and bright colors that go along with them? Do you love sweets? Then you'll love these DIY magical unicorn cupcakes that are a fun and magical way to frost and decorate cupcakes! Here's how to make unicorn cupcakes.
DIY Magical Unicorn Cupcakes
What You'll Need:
Box of pure white cake mix (and ingredients according to instructions, like oil, eggs, and water)
Sprinkles
Several bowls for separating and dying the batter and frosting
Start by gathering all your supplies.
Pour your boxed cake mix into a large bowl. You could also make your preferred homemade cupcake recipe, but the important part is that it's all-white (not a yellow cake) so the pretty pastel colors will actually show up in the cake mix.
Then I separated some egg whites according to the mix instructions and whisked them first in a separate bowl.
Whisk the egg whites, oil, and water into the cake mix (actually I think you're supposed to use a hand mixer but I only had a whisk).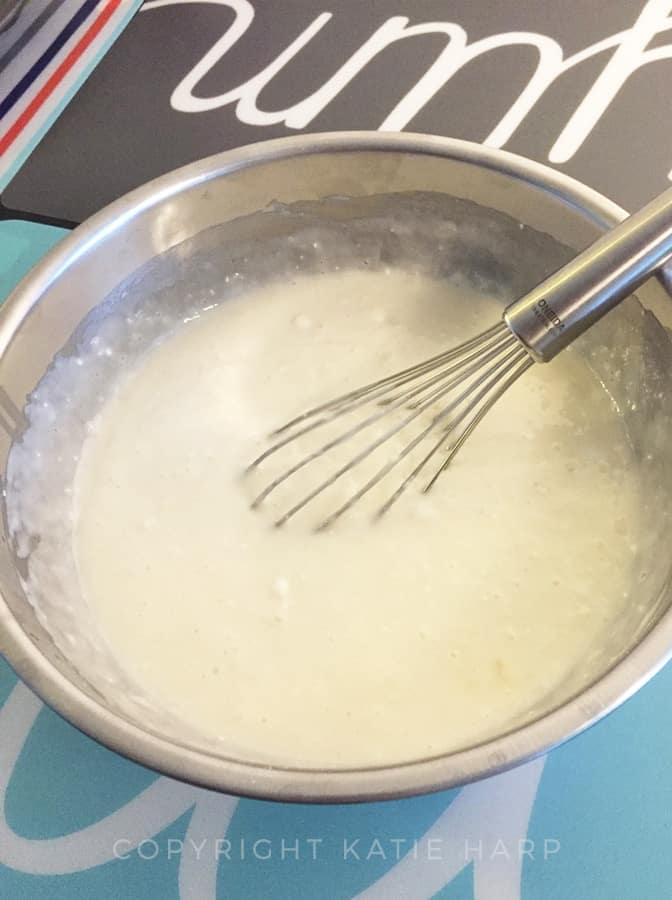 Separate the cake batter into two somewhat even portions so you can dye them. You'll also want two large mixing spoons so you don't mix the colors before they're ready. 🙂
Add about 1-2 drops of food coloring to each bowl. I used gel food coloring in pastel blue and pastel pink.
Next you're going to layer the cake batter into the cupcake liners in your muffin pan. I used plain white liners and the swirly effect showed through a little in the end product from the outside, but you can also use decorative liners.
Layer it with blue batter, then pink, then a smaller blob of blue on top (or the opposite, but you'll want at least 3 alternating layers without filling the liners too much). Use a knife or chopstick to swirl the colors together, but just a little or you'll turn the whole thing purple. I swirled the knife around each cup maybe 2-3 times.
Here are the pretty marbled unicorn cupcakes, ready to bake!
Here's what the naked baked cupcakes look like. You can see the pretty colors in the side view this way, though you'll probably want to keep the liners on for decorating. 😉 I just wanted a picture of the effect, because once they're decorated you can really only see that the batter is dyed when you bite into them.
Separate your white frosting into two small bowls, with two separate clean spoons. Add 1-2 drops of food coloring to each (one pink, one purple). For these I actually used the brighter jewel toned gel food coloring.
Ahhh so pretty! There would probably be more frosting if I hadn't eaten some of it…
Next grab a spiral decorating tip and either a pastry bag or a zip loc bag with one of the corners cut off, then put the frosting tip in the corner and fill the bag with the pink and purple frosting.
Pipe the frosting onto your cupcakes! I found that the first couple were a swirled color but then the colors just mixed into a pinky purple.
Next grab some pretty sprinkles. I ended up using rainbow sprinkles, pearl sprinkles, pink glitter sugar, and these pink, purple, and white sprinkles.
Then you'll need some white fondant so you can make the cute little unicorn horns.
You really only need a little bit to make the unicorn horns. The box above is meant to cover a whole cake, so I only ended up using a small chunk. First knead it in your hands to soften it up and mix it together, then roll out little snakes and swirl it on top of itself into a unicorn horn. You'll need one for each cupcake.
Aww, little baby unicorn cupcakes!
If you're feeling super extra (or ambitious..), you can even give your unicorns some teeny tiny little ears. 🙂
Legend has it, if you put at least 100 sprinkles on each cupcake, a magical unicorn will appear in front of you and make all your wildest dreams come true.
MAGICAL! Have fun!