Easy Homemade Granola Bites
Affiliate Disclaimer: This page may contain affiliate links, which means we earn a commission when you buy through our link (at no additional cost to you). As an Amazon Associate, I earn from qualifying purchases. Read our full Disclosure Policy.
If you're looking for an easy, quick, and high protein snack for breakfast or any time during the day, these easy homemade granola bites are the perfect solution! My basic recipe has only 5 ingredients but it can easily be adapted to your preferences and requires no cooking or baking. 🙂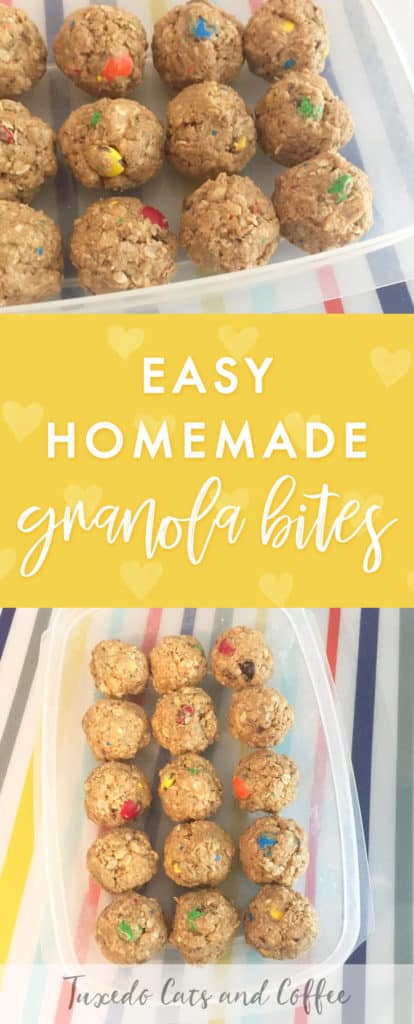 Easy Homemade Granola Bites
Recipe Ingredients:
1 cup quick oats
1 cup chopped nuts
About 1 cup peanut butter or similar nut butter
1/2 cup M&Ms
Squirt of honey
Here are my ingredients rounded up… this recipe requires no cooking or baking and you can definitely experiment with the ingredients and the amounts since it's not an exact science. This is just a starting point based on what I used. The consistency is good for making small granola bites or balls but will likely fall apart in a larger bar form unless you add other sticky ingredients.
First start out by measuring a cup of unchopped nuts. This is a random combination of what I had lying around, which were mostly cashews and almonds. I actually mostly made up this recipe so I could use up some nuts. 🙂 This gives these energy balls lots of protein along with the peanut butter!
It would probably be better to chop these finely and evenly or put them in a food processor, but I pulsed them a few times in a blender. It ended up being mostly powdery with some chunks left over at the top, but it's fine for this recipe and I suppose gives the granola bites a smoother texture than if you only coarsely chopped them.
Poor little blender. He had no idea what to expect… You'll want to add your chopped or pulverized / completely destroyed nuts to a large mixing bowl. 🙂
Next add a cup of oats to the mixing bowl. I used quick 1 minute oats because they're soft.
Combine these two together.
Next measure out about half a cup of M&Ms or other chocolately goodness for sweetness. Can be chopped up or put in whole. You could also use mini M&Ms or chocolate chips instead. I tried putting these through the blender for a few seconds and they came out looking like they'd seen the apocalypse. 😛
Here's everything in the bowl.
Next add a squirt or two of honey to taste. This is optional if you're vegan but it is sticky and helps hold the ingredients together so if you don't use it you would probably want to substitute something like pure maple syrup.
Measure out a big blob of peanut butter, about 1 cup. I used the same 1 cup measurement for all my ingredients solely for the reason that I didn't want to wash another measuring cup haha.
Throw that stuff in there!
Start combining everything with a large spoon or spatula.
Keep mixing until you get a consistency like this and the ingredients actually stick to each other so you can form balls.
Here's what they looked like once I formed the individual granola bites and put them in a container.
Pretty little M&M's peeking through.
I also took out my dinosaur sandwich cutter and tried to make dinosaur-shaped granola bites. It worked, although they weren't sturdy enough to actually pick up and store a bunch like that without their tiny little head or tail falling off. So I just had to eat them, tail first. 🙂
Om nom nom.
Good luck and enjoy!