Easy Halloween Party Snacks
Affiliate Disclaimer: This page may contain affiliate links, which means we earn a commission when you buy through our link (at no additional cost to you). Read our full Disclosure Policy.
Looking for some Halloween dessert recipes or Halloween appetizers for a party? Check out these super easy Halloween party snacks that you can make with just a few minutes and a few store-bought ingredients!
Easy Halloween Snacks for Parties
These cute Halloween mummy hot dogs are super easy to make and they're a fun snack or appetizer for a Halloween party! All you need is hotdogs and some crescent roll dough to make these Hallo-weenies. 😉
Halloween Mummy Hot Dogs
To make these mummy-wrapped hot dogs, get some regular-sized hotdogs and Pillsbury's crescent roll dough sheet (if you can find it).
Materials:
Hotdogs
Crescent dough sheet
You might only have the regular pre-cut crescent rolls available, but if you can find the full size sheets then you don't have to worry about trying to smush the perforated edges together. 🙂
Roll out the dough onto a sheet pan and cut it into long strips for the mummy wrapping (mine was, umm, a little messy looking..). You can also try a variation of flat pieces with rolled pieces for a different mummy look! (And if you completely overlap all the flat dough, it will bake into a single blob).
Then, on a separate pan or plate sprayed with non-stick spray, start wrapping the hotdogs from bottom to top, leaving a little space in between some of the pieces because the dough will puff up while it bakes and you want it to still look like mummy strips of cloth.
Bake according to package directions (I underbaked them a little so the dough would stay a lighter color).
Plate them up on a cute Halloween plate for your party! I got most of these Halloween decorations from Target.
I also added some candy eyes with ketchup. That part did NOT taste good, but it made a cute picture. 🙂
Happy Halloween!
These creepy bloody Oreo eyeballs are a great Halloween treat for your food table or Halloween party. You can put them together in just a few minutes and have an easy Halloween snack for your sweet tooth!
Related Posts:
Bloody Oreo Eyeballs
Materials:
Oreo halves, creme side only
Red icing and piping tip
Candy eyeballs
Start by gently separating some Oreos in half. I separated a lot more than this in order to get the decent looking ones because the creme filling has a tendency to split in pieces or end up partially on one side… but you want solid white circles for your eyeballs.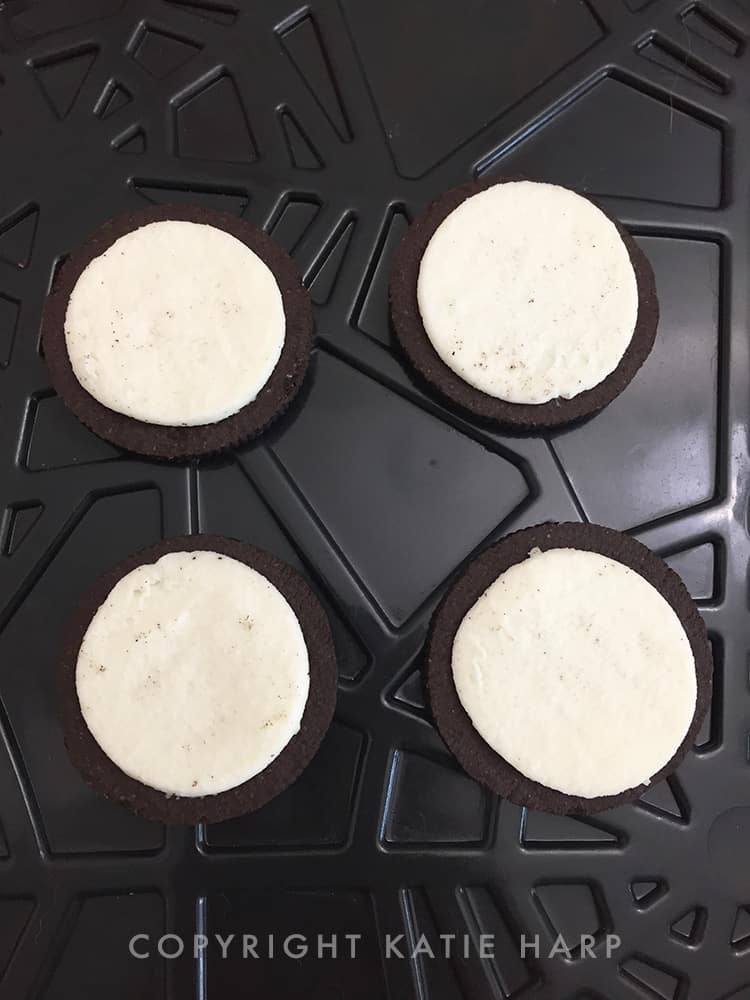 Grab your red icing bag (that you can also use for our other Halloween desserts). There's nothing that says "Halloween" quite like adding more sugary frosting on top of the sugary Oreo cream filling. 😉
Pipe some creepy bloodshot lines onto the white part of the Oreos.
Put a candy eyeball in the center of each Oreo.. done!
Creepy and tasty.
These Halloween ghost lollipops are a cute and simple way to dress up Halloween candy for trick-or-treaters or for a Halloween party. They'd be a cute decoration on a Halloween table for your party or as a party favor.
All you need are a few household supplies and craft supplies to make these Halloween lollipops. 🙂
Related Posts:
Halloween Ghost Lollipops
Here's what the finished Halloween lollipop looks like. You just need a few simple items!
Start with some small rounded lollipops like Dum Dums or mini Tootsie Pops. The Dum Dums actually worked out better because they're flat on top and don't have part of the wrapper sticking out.
Wrap the lollipop in a square of toilet paper FIRST. If you don't have this, then the coffee filters are transparent and you can see the wrapper / logos underneath.
Then add a white coffee filter on top of that. You *could* use a Kleenex, but these round coffee filters were the perfect shape and size. Tie a small ribbon around it to secure (be sure to double knot it).
Finally you can use a black Sharpie to add a little ghost face and display them on a festive Halloween serving platter for your party guests, or put them in a candy bucket for trick or treaters.
Done!

You can also display them upright in a tiny bucket or cup like this one.
Happy Halloween!
These chocolate donut bats are a quick and easy dessert to make for your Halloween party. All you need are chocolate doughnut holes, some Oreos, and candy eyes.
Related Posts:
Chocolate Donut Bats
Materials:
Chocolate donut holes
Oreos
Candy eyeballs
White or red icing
Knife
Start with some chocolate donut holes. I only have 4 here because I ate a lot of them in advance (oops).
Next you'll want to start splitting some Oreo cookies in half. You'll probably have to go through several Oreos to get a few that don't break and are the side that doesn't have cream on it. GENTLY cut them in half with a knife to make the bat wings (I had a few break so make sure you have more Oreos than you actually need).
Next poke your Oreo bat wings into the donut holes, trying not to split the whole donut in half.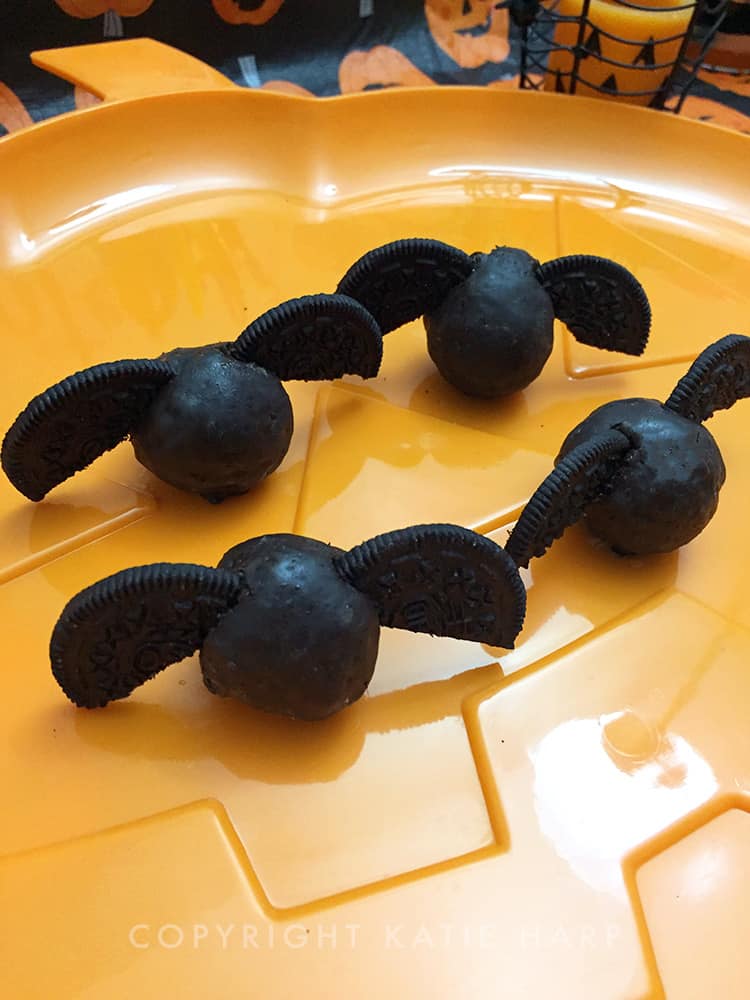 Add wings to all of your donut holes.
Finally add some candy eyeballs attached with a little bit of red or white icing (the red icing looks like blood ;)).
Happy Halloween!
If you're looking for an easy Halloween dinner that looks spooky but is super simple and easy to make, try this purple creepy Halloween pasta. 🙂 If you're having a Halloween party and have tons of candy and dessert ideas but don't know what to serve as a main dish, try these easy Halloween noodles.
Purple Creepy Halloween Pasta
All you need for these creepy Halloween noodles (that look a little like worms or maybe zombie brains..? ;)) are pasta, butter, and purple food coloring!
I made my noodles in my handy dandy Pasta Boat in the microwave (which only takes 10 minutes.. you can make your pasta on the stove too), added butter, and then squeezed a few drops of purple gel food coloring and mixed it in.
Food coloring can have a strong "taste" so don't add too much… but if you add a decent amount of butter, then it just tastes like buttered pasta.
Done! Easiest Halloween dinner idea ever.
Then to make my Halloween noodles super festive and creepy, I plated them on this plastic spiderweb plate with a decorated Halloween party table.
For a creepy and easy Halloween dessert perfect for serving guests or bringing to a Halloween party, try making these bloody donut eyeballs. Just decorate a few store bought ingredients and you're ready to go for a bite-sized Halloween treat!
Bloody Donut Eyeballs
Materials:
Powdered donut holes
Red icing
Candy eyeballs
To make these Halloween doughnut eyeballs you just need a few ingredients – powdered donut holes, red frosting or icing (preferably already conveniently in a bag with a skinny piping tip) and some candy eyeballs.
Start by laying out the best-looking donuts on a decorative Halloween platter. If some of the donuts are a little smashed, you can eat those instead.
Pipe some bloody veins onto the donuts with your red icing. There's also a red gel icing that might give more of a blood-like appearance, but the regular kind of frosting or icing definitely tastes better. We're going for blood-shot eyes here.
Next grab some candy eyeballs and stick them on top. I'm using these ones from Betty Crocker that are made for Halloween recipes like this, but you could also use black icing or an M&M.
Put one eyeball in the middle of the blood. Done!
These are super easy and you can make them in 5 minutes, but they take what would be a normal party food – donut holes – and give them a creepy Halloween makeover.
Decorate the food table at your Halloween party with these cute Oreo witch hats. They're a cute Halloween dessert that you can make in just minutes and impress your guests! They're also a chocolately and delicious spooky Halloween treat.
Related Posts:
Oreo Witch Hats
Materials:
Oreos
Dark chocolate Hershey's Kisses
Colorful icing or frosting (preferably red, orange, green, or purple – witchy colors)
Start with as many Oreos as you'd like to make for these witch hat treats. You DON'T need to separate them. If you can find the Halloween Oreos with an orange filling, that would be even better. 🙂
Grab an equal number of dark chocolate Hershey Kisses. The dark chocolate are better for this than the regular milk chocolate because the darker color matches the Oreos and looks more like a black witch's hat.
Attach the Hershey Kisses to the top of the Oreos with a blob of colored frosting. You want the frosting to blob out visibly on the sides so it looks like a ribbon on a witch hat. Any spooky color can work here! 🙂
That's all there is to it! Super easy Halloween treat for a party.
Display them on a cute Halloween platter for extra spookiness.
Done! Happy Halloween!