Chickpea Salad Sandwich Recipe
Affiliate Disclaimer: This page may contain affiliate links, which means we earn a commission when you buy through our link (at no additional cost to you). As an Amazon Associate, I earn from qualifying purchases. Read our full Disclosure Policy.
This chickpea salad sandwich recipe made of chickpeas, eggs, and mayonnaise (feel free to substitute vegan ingredients as well) is simple to make and can be adapted for any diet, from vegetarian to vegan and even gluten-free if you just change up the bread. Here's my chickpea salad sandwich recipe as a vegetarian alternative to tuna salad.
Vegetarian Chickpea Salad Sandwich Recipe
Although I'm not vegetarian anymore, I still enjoy vegetarian food and this was something that I used to make when I was a vegetarian that was quick and easy and tasty. 🙂 It was nice to be able to use this chickpea salad sandwich recipe when my family was eating tuna salad sandwiches so I could be eating a vegetarian version of the same meal.
Kitchen Supplies You Might Need:
Cook Time
Prep Time: 5-10 minutes
Total Time: 15-20 minutes
Serves: 2-4
Ingredients
– Several slices of bread (white/wheat/gluten-free/vegan/etc)
– 1 can chickpeas/garbanzo beans
– A couple fat tablespoons of mayonnaise or vegan substitute
– 1 – 2 hard boiled eggs (optional if you want to make a vegan version)
Directions:
Gather all your ingredients. Boil your eggs first, and once those are cooked, crack and peel off the shells. Get out a big mixing bowl and first mash your chickpeas with a fork (drain the water first), then combine with the couple tablespoons of mayonnaise and your chopped eggs. Stir it all together. Once it's to your desired consistency (the consistency of tuna salad, but vegetarian), spread it on your slices of bread and serve. Done!
Look at these lovely drained chickpeas (garbanzo beans).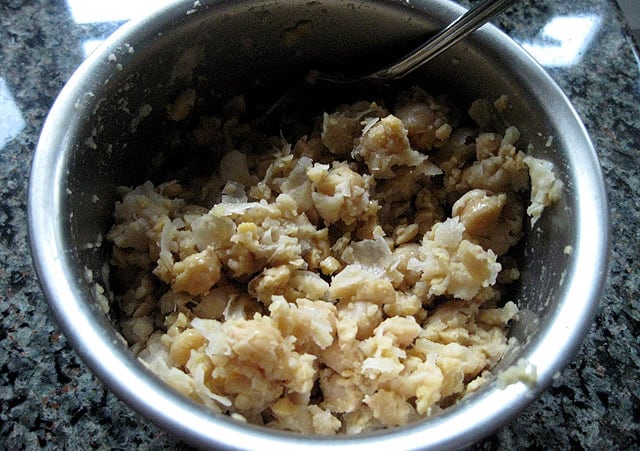 Here they are, mashed with a fork.
Here's after I added the chopped egg.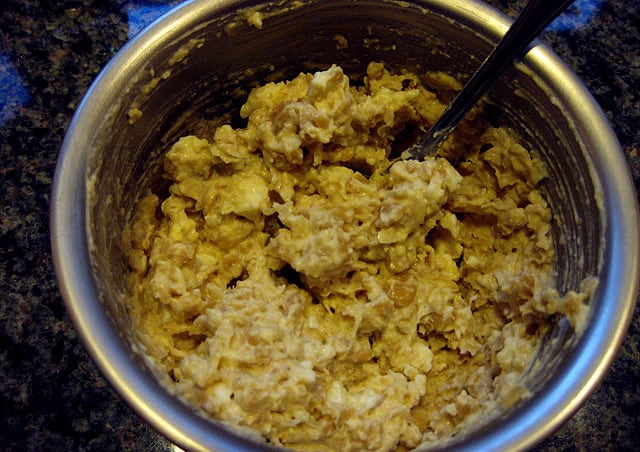 And here is my chickpea salad sandwich recipe mixture after adding a healthy amount of mayonnaise and stirring it all together. Tasty!