How to Make Basic Slime (with Borax and Glue)
Affiliate Disclaimer: This page may contain affiliate links, which means we earn a commission when you buy through our link (at no additional cost to you). Read our full Disclosure Policy.
If you've been wondering how to make the slime craze that's all over Youtube and social media, here is a basic recipe for slime with the most standard method. Here's how to make basic slime with borax and glue.
How to Make Basic Slime (Borax and Glue) | Slime Recipe Easy
Here's what you'll need to make this basic slime recipe… (be careful about letting kids or pets near this as borax may be toxic and should not be eaten!)
Basic Slime Recipe Materials:
Time needed: 10 minutes.
How to make basic white glue slime
Gather ingredients

You'll need a bowl, spoon, white school glue, warm water, and borax powder.

Make slime activator.

Thoroughly mix half a teaspoon of borax powder into one cup of warm water.

Add glue to bowl.

Add as much or as little glue as you'd like to a bowl (can use the whole bottle).

Add liquid activator one spoonful at a time.

Add the borax liquid slowly and stir in between.

Keep stirring and adding activator until slime is formed.

You might need several spoonfuls of activator, but you definitely won't need the entire cup of liquid. Mix slime until it comes together and stops sticking to the bowl.

Play with slime!
Slime Activator Recipe | How to Make Slime Activator
First you need to make the slime activator that will make your glue turn from being ONLY a sticky mess to something stretchy and slimier. 🙂
I can tell you from my own failed slimes that if you put straight up borax powder into the glue, it will most likely turn into a crunchy mess with way too much borax. So instead, it's much better to dissolve about half a teaspoon of borax powder into a cup of slightly warm water, and then add that mixture into your glue one spoonful at a time.
Mix thoroughly. You may have to mix it a few times during the process also because I noticed that the borax powder started to sink to the bottom after a while and in other slime trials, I was only mixing in the water at the top if the water had cooled down too much and the borax had sunk to the bottom.
How to Make White Glue Slime
Add a nice blob of glue into a bowl, depending on how much slime you want and how big your bowl is. I didn't use a particular measurement for this, although I did buy several of the over 7 ounce large bottles of white Elmer's glue. I made a few different trials of different types of slime and didn't even use a whole bottle.
Add the slime activator (dissolved borax in warm water) into the glue one spoonful at a time, mixing in between.
Mix, mix.
The goal is to get to the point when the slime starts to pull over from the sides of the bowl and starts to come together with enough of the activator. Not enough, and it will still be the consistency of the glue, but too much and it will get too stiff or hard.
Here was the consistency of my basic slime. At this point you can take it into your hands and play with it until it gets less sticky (you may need to add more activator, or even add some of it to your hands) and it becomes more of a stretchy, bouncy slime consistency. I actually used this as a starting point for this eyeshadow slime that I created in another post, so I wasn't totally finished in the picture. 🙂
You can also mix in a tiny bit of food coloring or something like glitter to give your slime some fun color.
Store your basic slime recipe in a slime jar container or something with an airtight seal so it doesn't dry out.
Good luck!
Basic Slime Recipe with Borax and Glue
If you're looking for a fun way to add color and glitter to your slime recipes, you'll love this eyeshadow slime that I made. Here's how to make eyeshadow slime. Perfect if you have a certain color of old eyeshadow that you just don't wear. 🙂
How to Make Eyeshadow Slime
First you'll want to start by making our basic slime recipe, which you can find above I'll also give some brief instructions below…
Materials:
White Elmer's glue
1/2 teaspoon borax powder dissolved in 1 cup warm water
Unwanted eyeshadow
Bowl and spoon
Add 1/2 a teaspoon of borax powder into 1 cup of slightly warm water to create the slime activator. This will make the slime come together into the right texture.
Add glue to a bowl.
Start adding small spoonfuls of the slime activator into your glue gradually, stirring in between.
After a few spoonfuls of the dissolved borax mixture, you should start to get a slime like this that pulls away from the bowl. Normally you would play with it in your hands to continue mixing everything together, but I'm going to add some powder eyeshadow in this version. 🙂
Here are the slightly glittery purple eyeshadows I used. These were pretty old and I wasn't wearing them (I used them as a faux hair chalk before though), so I decided to turn them into slime. You want just enough to color the slime but not so much that the powder actually changes the entire texture or thickness of the slime.
Scrape out the eyeshadow into your slime and start stirring it in.
Mix, mix mix!
Here's the first purple color starting to mix in.
Then I added the other 3 purple eyeshadows and started mixing in my hands to bring the slime together better.
Here is my finished shiny purple eyeshadow slime! It is stretchy but not so sticky that it doesn't come off my fingers.
I tried swirling it a little like they do in Instagram pictures. 😉
This one is a fun texture to play with. I liked that the powder of the eyeshadow made the borax and glue slime a little less sticky while still remaining stretchy. It did get my hands very sparkly though!
Have you ever wanted to make DIY slime but weren't sure how or which slime recipe to use? I tried a few popular methods and show how they all turned out in this post. Here are 3 different ways to make DIY homemade slime, with or without borax and glue.
Related Posts:
DIY Homemade Slime Recipes 3 Different Ways – With or Without Borax and Glue
1. DIY Slime Recipe with Borax and Glue
Ingredients:
Bowl or tupperware with lid (for storing slime short term)
Spoon
In this classic slime recipe, you use glue (usually white Elmer's Glue, but I had Aleene's Clear Gel Tacky Glue) and borax powder. Sometimes people will use liquid starch or contact solution instead of borax because those technically have borax in them (boric acid).
Welp, this one originally didn't turn out well for me. I watched a few slime-making videos but didn't actually follow a recipe (I like to live dangerously :)) and thanks to my out-of-control box of borax, I ended up pouring in WAY too much borax powder the first attempt and it made my slime very crunchy. I also didn't have a lot of clear glue left in my bottle to work with. I would say that this method is NOT very forgiving, and although I know that kids make slime all the time, this particular method was definitely not Katie-proof. 😉
But here are some pictures of the second attempt at this borax + glue combo.
First I added the glue…
Next, I added a teeny pinch of borax and started mixing together… Apparently you are supposed to actually dissolve a tiny bit of borax in warm water first and then add the borax water, not the powder directly.
Then I added a little more borax and mixed more. You want to get the point where you can mix it together with your hands. This kind of worked better than the first extremely crunchy one I made (WAY too much borax), but it still looks like of like tapioca or rice pudding with weird chunks in it. :/ Actually, it kind of reminds me of Floam or one of those putties that intentionally have little beads in them.
I totally used up all my glue at this point, so I wasn't really a fan of this one and wanted to try a couple others that I had more materials for (using dish soap).
2. DIY Slime Recipe with Dish Soap and Borax
Ingredients:
The second kind of slime I tried worked better than the first. I started by squirting a little dish soap into a new bowl (these are actually plastic tubs from the Dollar Store).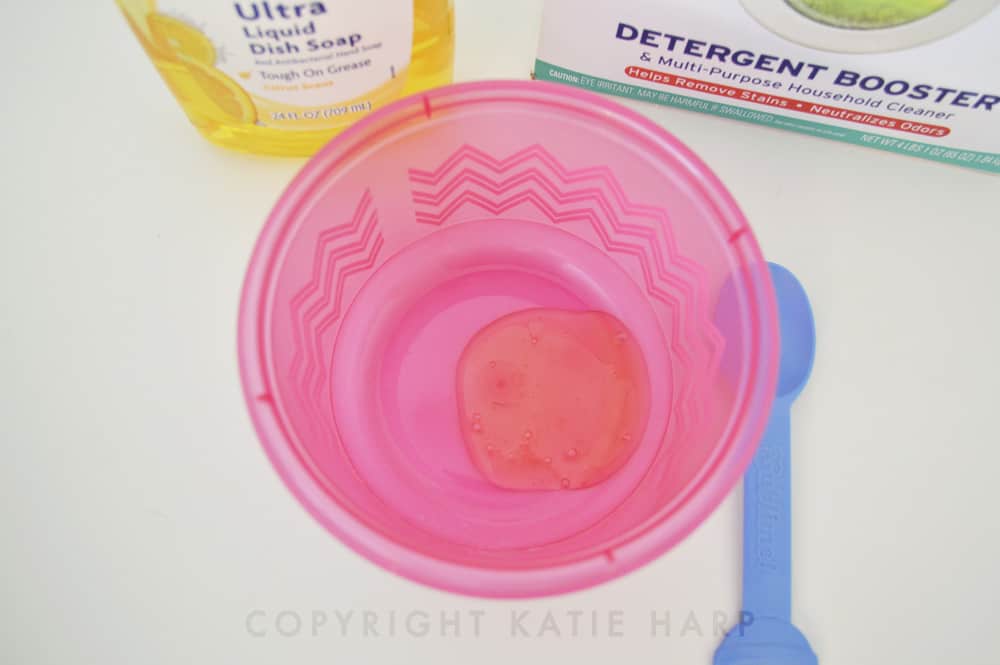 This time around I was a little shy about using the borax, so I put a tiny pile on a lid so I could add it more slowly and gradually (I ended up pouring more out though). Probably would still work better if it was dissolved in water, though.
Next you want to start mixing everything together, just a little at a time, and then gradually add tiny bits of more borax and repeat the mixing. You can also add in a little more dish soap if you need to.
Aaaaannndd you want to keep adding more borax, just a smidgen at a time, and mix together. My slime started off yellow-orange because of the dish soap but ended up being much lighter at the end because of the borax. Mmm… looks kinda like alfredo sauce. 😛
When it comes together a little better you can start to mix it with your hands.
It looked like a pretty slime texture in the previous picture, but it was super sticky so I added more borax and got this interesting and fun spreadable dough-like consistency. This one might be nice to squish and play around with as a stress reliever.
If only because I have a giant box of borax and nothing to do with it, I would make this dish soap and borax slime recipe again. 🙂 I would definitely try dissolving the borax in warm water first to see how that affected the results of all the different methods.
3. Homemade Slime Recipe with Dish Soap and Corn Starch
Ingredients:
This slime recipe with corn starch and dish soap is the perfect way to make slime if you don't have glue OR borax or maybe you're just concerned about using borax.
Start with a little dish soap in a new, clean bowl (don't want to contaminate your ingredients).
You can also add food coloring to any slime you make to have a little color! I'm going to pretend this is real food coloring and definitely not gel icing from several Halloween's ago…
Start adding corn starch and mixing in, just a little at a time. Wow, such art.
Mix, mix, mix. Add more corn starch.
More corn starch, I say! Now it's starting to look like pink buttercream frosting. 🙂 This one is more forgiving for adding lots of corn starch than the borax recipes.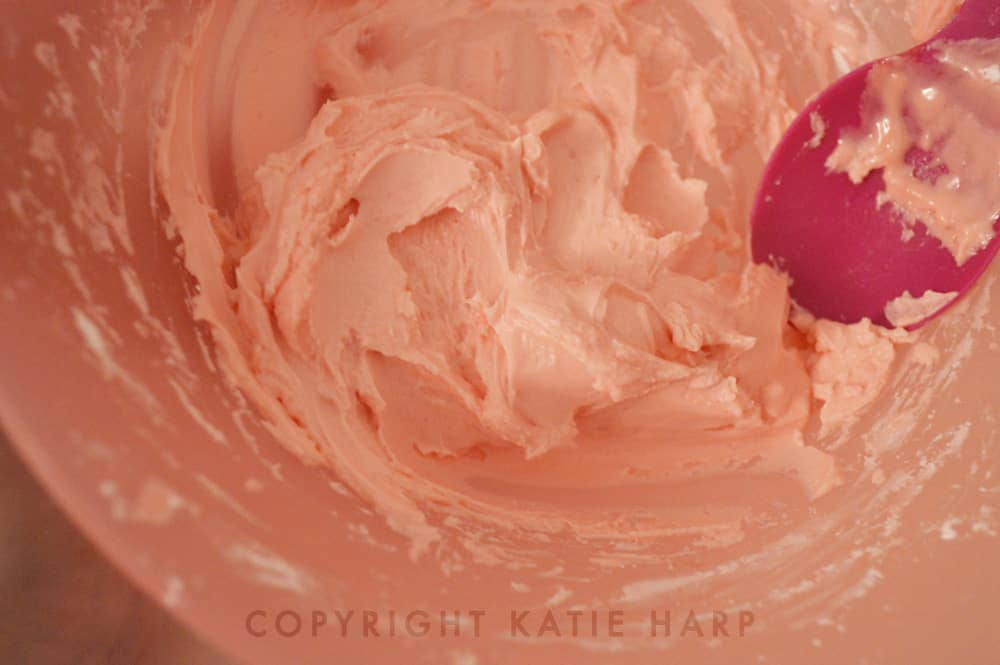 Keep adding more corn starch and start mixing it in your hands. This one is more like a putty and turned out nice and squishy. 🙂
All in all, I found the second two recipes much friendlier and more fun than the standard borax and glue recipe. Good luck!