Affiliate Disclaimer: This page may contain affiliate links, which means we earn a commission when you buy through our link (at no additional cost to you). As an Amazon Associate, I earn from qualifying purchases. Read our full Disclosure Policy.
These dinosaur bath bombs are a fun DIY craft project that's easy to make and super quick. You only need a few ingredients to make these fun and relaxing bath fizzies.
DIY Dinosaur Bath Bombs
Materials:
1/2 cup baking soda
1/4 cup citric acid
1/4 cup corn starch
About 1-2 teaspoons of oil (I used olive oil, but coconut oil or almond oil are good too!)
Small spray bottle of water
A few drops essential oils
A few drops green food coloring or soap dye (too much and you'll dye your hands, your bathtub, and the skin of every person you've ever loved…)
First gather your materials.  Since my dinosaur sandwich cutter / cookie cutter mold is fairly small, I used half the recipe that I did for some previous bath bombs.
First add your baking soda to a large mixing bowl.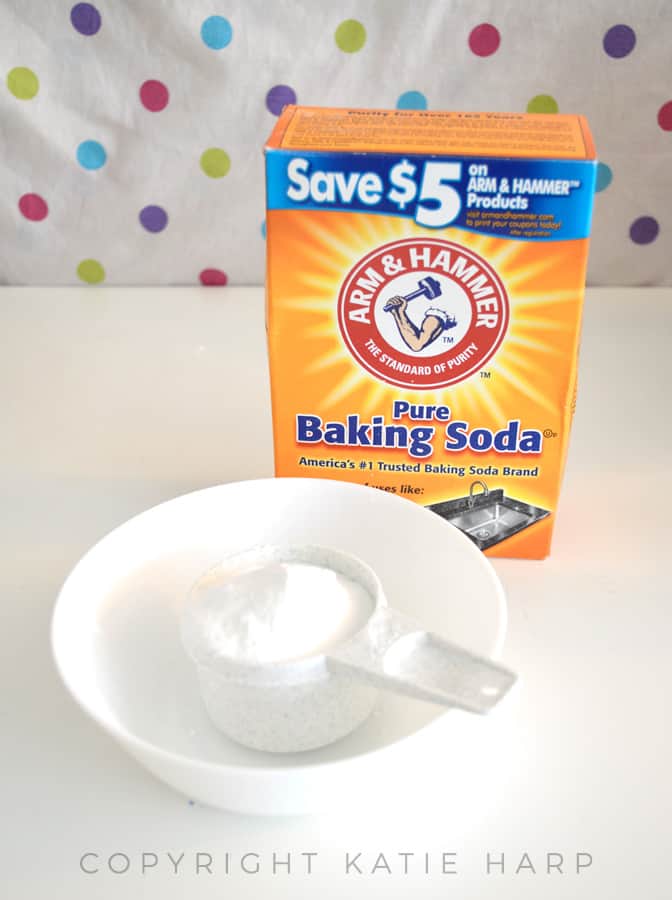 Next, add the corn starch.
Then add the citric acid. This is necessary in this particular recipe in order for the bath bombs to actually fizz up in the bath.
Thoroughly combine all the ingredients so there's no clumps.
Next you can add a few spoonfuls of oil for your skin (since this is going in a bath), essential oils for scent and wellness benefits (I used Lavender essential oil), and food coloring if desired.
Slowly add the oils and food coloring into the dry ingredients. If you add too much, the citric acid will start fizzing. Combine well until the powder is all dyed green (or whatever dinosaur color you chose). You may have to smash the oil into the powder a little bit to get it to mix together.
Next grab your spray bottle of water and give it a few sprays. Not too much at once or the citric acid will fizz! Just a little at a time mixed in until you get the consistency of damp sand.
Grab your dinosaur mold or cookie cutter and firmly pack the bath bomb mixture into the mold like you were packing brown sugar into a measuring cup.
The mixture will expand a little bit as it dries, so make sure you pack it down well. You may need to scrape a little off the top so the details show better if your cookie cutter or mold is made like mine is.
Let dry for several hours or preferably overnight and pop the dinosaurs out! Ta da! Keep them in a dry place until you use them. To use, simply drop one into a warm bath and it will start fizzing and dissolving instantly.
Good luck!