Project Pan Makeup Use Up
Affiliate Disclaimer: This page may contain affiliate links, which means we earn a commission when you buy through our link (at no additional cost to you). Read our full Disclosure Policy.
Are you trying to save money? Do you have way too much unused and unloved makeup laying around? It might be time for a Project Pan challenge or makeup use up! Here is my Project Pan makeup use up journey and goals.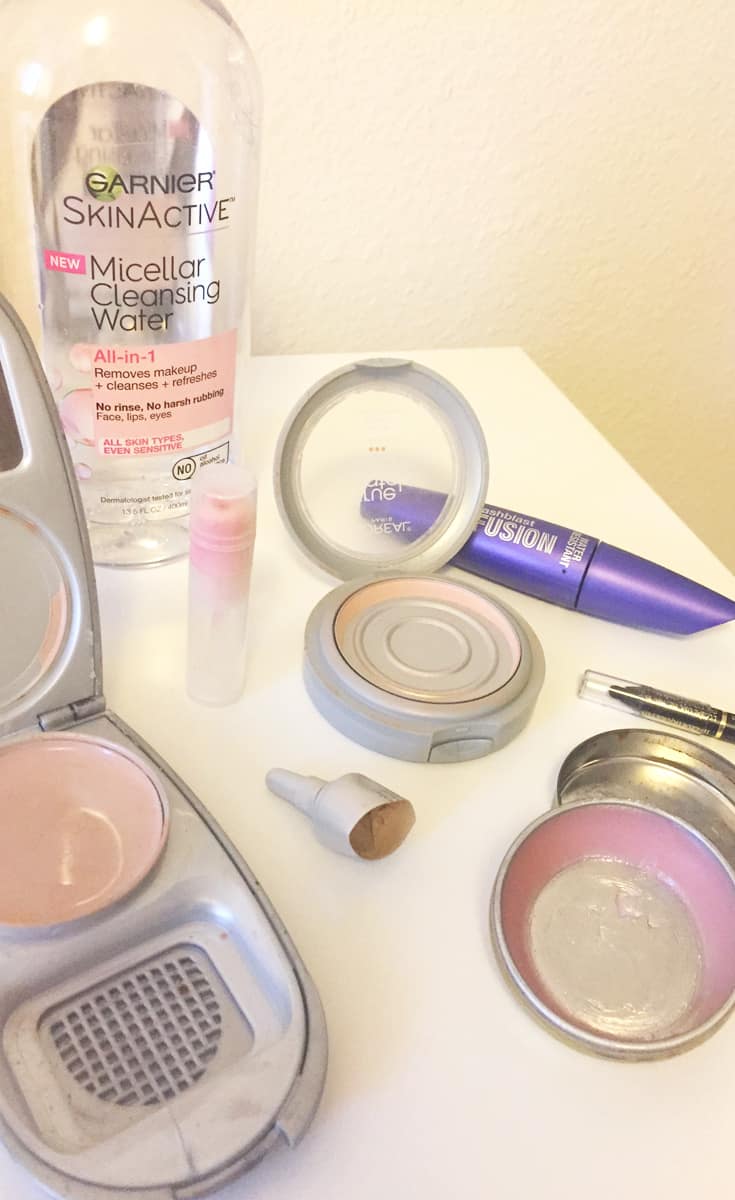 Project Pan Challenge Makeup Use Up | Project 10 Pan
The "makeup use up" idea was inspired by some Youtubers like Elle is for Living and Thrifty Beauty and also the Project Pan project. Project Pan is basically when you pick a certain number of projects to either use up or "hit pan" on, meaning that you've reached the metal pan of the product. It's a way to save money and use the makeup you already have at home instead of buying more things.
You can also see a previous similar post I did about saving money on makeup, which is really just a twist on using Project Pan in your life.
So in this post, I'm setting some goals specifically for the remainder of spring 2017 (and there's not that much time left!). I'm in the middle of trying to use up about 8 different makeup products, pictured in the post.
For the most part, these items are not my favorites but since they're still good, I don't have the heart to just throw them away.
The specific products I'm trying to use up before summer are the Garnier Micellar Cleansing Water (which is good for removing makeup / cleaning your face, but I didn't realize how many chemicals were in it so I'm going to use witch hazel with rose water after this), a really old Chapstick, an almost-used-up face powder, a waterproof Lashblast Fusion mascara (this is actually my favorite mascara!), a stubby little black eye pencil, some leftover foundation that I poured into a container of other leftover foundation (whoo bacteria!), a stub of a cut up container of Mary Kay concealer in a very wrong color for my skin, and a strawberry lip balm.
So besides the mascara, I wasn't a huge fan of these products but they still work so I might as well use them up instead of just chucking them out. ? Some of these are super close to being used up (like the pressed powder for example), so I should have no problem finishing these in the next couple months.
In the meantime, I'll try my best not to buy any new makeup. ? I also decided that a good way to pare things down to just products that I actually like is to make a rule that I have to use up 2 of a particular kind of product before buying a new one. For example, I'm in the market for a good red lipstick right now but I would need to use up two old lip products before buying a new one.
Project Pan Spring Makeup Use Up Results | Project Pan Makeup Empties
This year I've decided to do a few fun challenges to use up old makeup in my collection rather than buy new products. That way, I not only save money, but ultimately I'm also downsizing the amount of makeup I have. After I use up the old products, my only purchases will be replacing my favorite products (for the most part, anyway ;)). Here are the spring makeup use up results.
Basically it's a form of Project Pan (a challenge from the makeup community) to hit the bottom "pan" of your makeup or use up a product completely before buying something new.
I really only worked on these products for less than a month since my last post, but I decided I wanted to do an update anyway. Here's how I did.
First for the bad news. 🙂 Here are the products I still have left that I didn't use up. I was trying to use up 8 different products, and I still have 5 left.
HOWEVER, I didn't really plan a timeline for this (technically it's only May 21st so it's not totally the end of spring), plus I ended up using up or condensing several other products that I wasn't planning on. My goal for doing these kinds of projects in the first place is to downsize things and apply minimalism ideas to my makeup.
Does it look like the lip balm has actually expanded? 😉 That's because I melted down two half-used Lipsmackers and put them in the pan because I wanted to use those containers for some free Nars lip pencils I had (but didn't have a large sharpener for).
Here are a few things I condensed down. The pressed powder was one of the products that I wanted to use up, but the Bare Minerals and two Urban Decay Primer Potion samples were unexpected! I actually repressed the two powders into a different compact so there were 3 in a single compact. That saved space and made the Bare Minerals a better color than it was previously (it was really yellow on me so I couldn't use it the way it was before). I also depotted the primer potions into a different container with existing eyeshadow primer.
Basically, I got to throw away all of these containers because I condensed the product into smaller packages.
I used up this Garnier micellar water completely! It was nice but I think it may have made me break out so I'll be sticking to witch hazel for cleaning my face. 🙂
I also unexpectedly used up this Maybelline eyebrow pencil! I somehow ended up with like 3 of these so I'm trying to use them up because I want to start using Wunderbrow instead. They're nice and easy to use but don't have much staying power on your brows.
As far as purchases go, I tried to figure out what products I ultimately wanted in my collection and ended up getting a red lipstick (actually a NYX soft matte lip cream) and a couple half price holy grail neutral eyeshadow palettes on Poshmark. At this point I've decided that my makeup "collection" is basically complete. Hooray! So in the future, I'll be using up products that aren't my favorites first, and then mostly just replacing things as I use them up, but not adding on to anything.