Affiliate Disclaimer: This page may contain affiliate links, which means we earn a commission when you buy through our link (at no additional cost to you). Read our full Disclosure Policy.
If you've ever dreamed of stepping into a lifesize game of Candyland or something similar to Willy Wonka's chocolate factory, these candyland party ideas are perfect for you.
Create Your Own Lifesize Candyland Party.
We have Candyland party supplies and decorations but we'll also show you how to make your own Candyland decorations featuring the characters and backgrounds from the original Candyland board game.
Want something premade? Check out this Candyland party pack with balloons, plates, and more that match the board game.
Set Up Your Work Station – You'll need paint, paper, cardboard…
To make this Candyland party come to life, you'll need these supplies:
– Paint (we used giant bottles of cheap Tempera paint. If your decorations only need to hold up for a few hour party, you need coverage.)
– Large sheets of cardboard (cut up big boxes or cut up smaller priority shipping boxes that you can pick up for free from the post office)
– OR thin sheets of plywood (we used cardboard so it could travel easier)
– Paint brushes (the bigger the better, feel free to buy these cheap sponge brushes. Also get some smaller brushes for detail work)
– Reference photos (look up the Candyland board game online)
– Optional: a rainbow of different colored butcher paper. We made a life-size rainbow pathway on the sidewalk all around a school using 3 ft by 3ft squares of butcher paper.
Candyland Party Inspiration – A Candyland mural from the Toy Story midway queue
Photo credit: Daryl_mitchell
Plumpy Candyland Party Ideas
Plumpy and Plums – Set up Plumpy on the ground with a stick and tape face to tree
To make Plumpy, draw him on a sheet on thick cardboard around 2ft by 2ft.
Once you've copied a pencil drawing onto the cardboard (using the board game or the internet for reference pictures), begin to paint him in with green for his body, light and dark green for highlights and shading, and purple for the plums and his necklace.
Finish by attaching a wooden rod or stake to the back with clear packing tape so you can stick the figure into the ground. We also had a painted cardboard basket of plums and a white paper face taped to a tree with our plums from earlier hanging by thread to the branches.
Plumpy and His Plums
Here you can see a detail of what Plumpy and his basket of plums should look like, as well as the color scheme.
Print Small Decorations from Online – We printed and cut out plums to hang in a real tree for Plumpy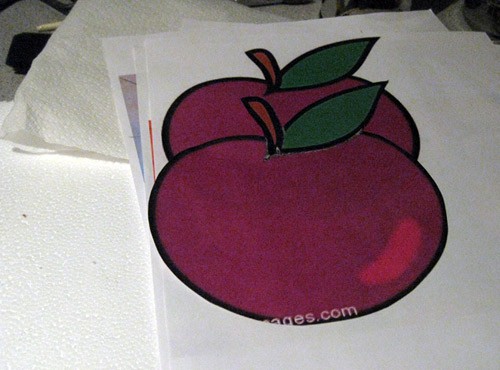 Source: Plum Clip Art
Jolly Candyland Party Ideas
Jolly – Made from cardboard and painted
As you can see from the picture, Jolly was also painted on cardboard with a stake taped to the back so he can stand out in the ground. The cardboard should be about 2ft by 3ft.
His body is light purple with a ruffly pink and white costume with purple polka dots and purple socks. He has white and yellow glasses and pink gloves and antenna.
Lord Licorce Candyland Party Ideas
Lord Licorice's Castle – This castle is painted on the biggest cardboard we could find, and someone dressed up as Lord Licorice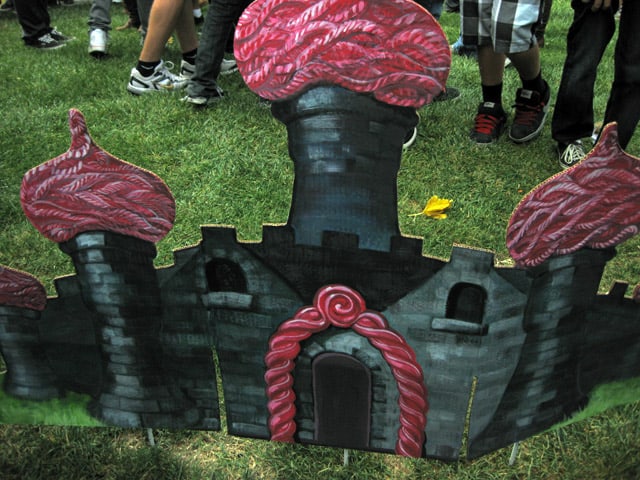 This cardboard was around 4ft wide by 3ft tall and designed based on the board game. Lord Licorice's castle on the game is hard to see but you can stylize and design the castle how you like or to fit the size of your cardboard. The bigger, the better. You could also paint something onto butcher paper and tape it to a wall (but our event was outside).
Attach several stakes to the back for support so it can stand up, and paint the cardboard a dark grey and black with red licorice-like turrets on the top of the castle.
Candyland Birthday Cake – Cake Photo Inspiration
Photo credit: seriousbri
Gramma Nut's House – The house and nuts on the ground were painted on cardboard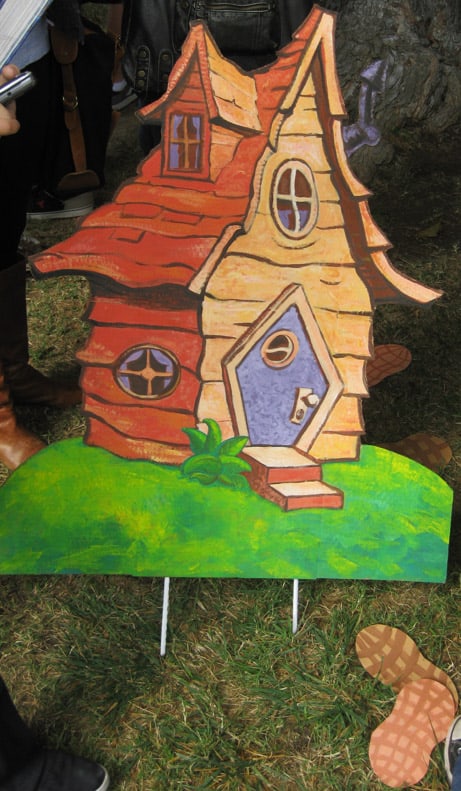 This cardboard was around 3ft tall by 2ft wide and painted with browns and tans, or in the color scheme of a peanut. The windows and doors should be purple.
We also painted some peanuts to scatter around on the ground that were much larger than life, about 1ft long each. Or if this is an indoor party you could just use real peanuts somewhere.
Princess Lolly's Lollipops – Made from paper plates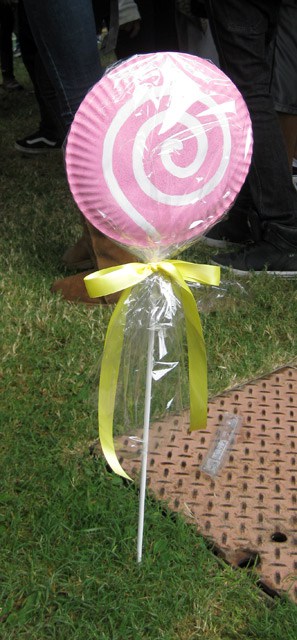 To make these lollipops, buy 2 or 3 ft wooden dowels from a hardware store and then use hot glue to attach two paper plates to the stick to form a 3D lollipop shape. Paint and apply glitter and then finish with sheets of plastic (or plastic wrap) tied with ribbons.
Queen Frostine's Ice Cream
Paint some large cardboard ice cream cones for Queen Frostine's ice cream sea. For an indoor party you could also use this as a dessert bar with ice cream sundaes and some pink ice cream cones painted around the table.
King Kandy's Castle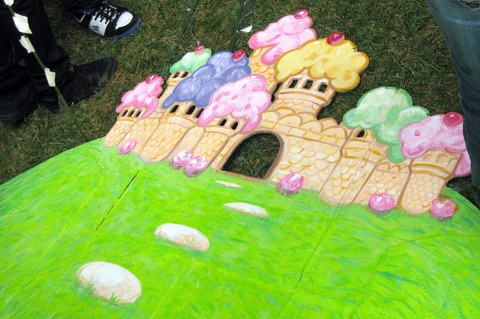 King Kandy's castle should be the biggest decoration at your party. Ours was made from cardboard around 5ft wide and 4ft tall.
The castle should be painted to look like ice cream cones with colorful ice cream on top as the castle turrets. Like Lord Licorice's castle, this could also be painted on paper and made to cover a door or wall.
Candyland Party Printables
Free Candyland Party Printables and Ideas
Candyland Birthday Party Ideas
Pinterest Candyland Party Ideas
Pinterest Candyland Party Ideas
Good luck with your Candyland party! Hope you've gotten from ideas from this. 🙂