How to Save Money on Makeup
Affiliate Disclaimer: This page may contain affiliate links, which means we earn a commission when you buy through our link (at no additional cost to you). Read our full Disclosure Policy.
Here's a cool trick for how to save money on makeup. It's called Project Pan and it's popular in the online beauty world. Basically you pick 5 or 10 makeup items (or really however many you want… I just had 4) to use up before you buy anything new. If you run out of something you need like mascara then you can buy it, but the point is to not buy something in the same category that you're using.
Related Posts:
How to Save Money on Makeup and Beauty
So for me I chose two perfumes, an EOS lip balm, and a lip gloss (which I normally don't use much) to use up. All of these had a lot of use in them already so it will probably only take a couple months to fully use them up. In the meantime I won't be buying any new perfume or lip products.
Not only is this great for your wallet, it's also great for the environment because of less overall consumption. You're also training yourself to use up what you already have instead of constantly going out and buying new things. If you look hard enough, I'm sure you'll find that you have a lot of usable products (makeup or otherwise) at home already.
Facials at a spa or private esthetician can range anywhere from $50 at an Aveda to $100 or $150 at a swanky, upscale place. That's a lot to drop on a one time thing. To save money, here's how to do a facial at home for $1 or less or using natural ingredients you have at home!
These handy little sheet masks are from Forever 21 and they're only a buck each! You just clean your face, then unwrap the sheet onto your face and relax for 15 minutes. Then you massage the leftover product into your skin like a moisturizer. You don't even have to wash it off your face after. So easy!
Related Posts from Other Sites:
How to Do a Facial at Home:
If you don't have a Forever 21 nearby, here are a few possible homemade mixtures to do a facial at home:
– Mix brown sugar and honey and apply to your face in little circles, then wash off (exfoliating)
– A few drops of tea tree oil mixed with a carrier oil like olive or coconut oil, then moisturize into your face
– Just honey (wash off)
– Just olive oil or coconut oil
– Mashed up foods like strawberries or avocado
– You can also put cooled green tea bags on your eyes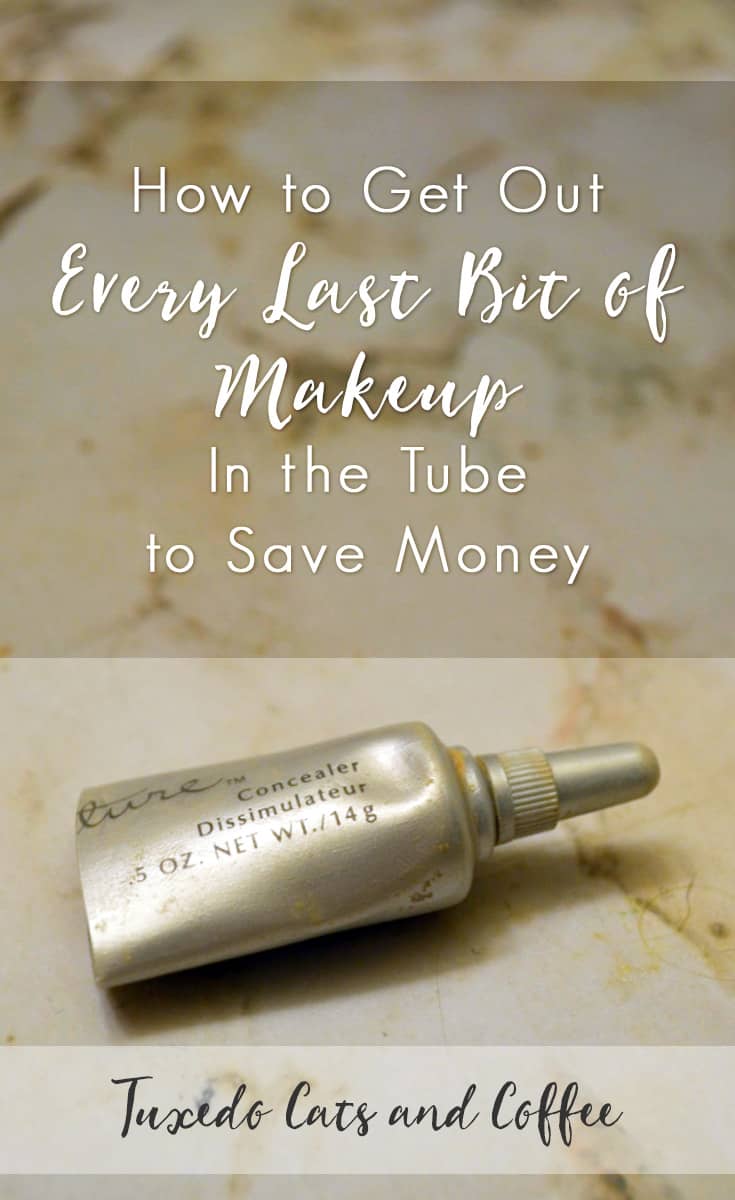 You know how when you have a tube of concealer or something and you get to the point where you can't squeeze any more out? Here's a secret: there is actually SO MUCH MORE product left in the tube. Here's how to get out every last bit of makeup in the tube to save money.
How to Get Out Every Last Bit Out of the Tube to Save Money on Makeup
This works for flexible makeup tubes like for concealer, certain lip glosses, primer, etc. I'll also give you a bonus tip for getting lip gloss out of those hard plastic tubes with a lip wand (because there is definitely more product left in even after you think you've gotten it all out!).
All you have to do is use up as much as you can, and when you think you've gotten to the end, just snip off the end of the tube (that's why it has to be soft plastic). As you can see in my picture of concealer below, there is actually a TON of product still left in the tube that you can't really get to by squeezing it out, but you can get to on the other side of the tube.
So, just get a little bit out with your finger or applicator brush and then seal it up in a plastic bag with the air squeezed out so your makeup doesn't dry out (although it will probably still dry out a little).
Using Up Lip Gloss
Now, if you're wondering about what to do about hard makeup tubes like the kind that lip gloss often comes in, you can actually microwave those for just a few seconds to make the makeup more liquid-y and then pour it out into a different container!
Using Up Mascara
And another bonus: mascara! When you think you're out of mascara and it's all dried up, add a drop or two of saline eye drops or contact solution to the tube and give it a little stir. You actually have a ton of mascara left, and now it's the right consistency again. ? (Note: some people recommend adding a drop of makeup remover to your mascara, but that will eventually break down all the makeup, so use saline solution instead).
Designer makeup is nice, but sometimes the price tag is a little more than we're willing to spend. Drugstore dupes to the rescue! Here's the best drugstore dupe for They're Real Mascara by Benefit.
The Best Drugstore Dupe for They're Real Mascara by Benefit
I've tried several different mascaras, both drugstore and high end, and my favorite dupe for the They're Real mascara by Benefit is Lashblast Fusion Waterproof by Covergirl (in very black).
The Lashblast line is all nice, and they have one for length and one for volume, but the fusion one with both lengthening and volumizing features is my favorite. Also, I always use waterproof mascara because it lasts all day and it stays on better if you wear contacts or live in a rainy place.
Some people recommend the Rocket mascara as a dupe for They're Real, but I found that one was a little clumpy when applying it. Of course, all volumizing mascaras will add a little "bulk" to your lashes, but the Lashblast Fusion is pretty smooth. I actually prefer it to the Benefit mascara!
Good luck!
Bonus tip: If you're not someone who buys a lot of makeup, I also sometimes buy (new) makeup from Ebay and it's cheaper that way. That's how I've scored some designer brands. Also check for sample sizes! I got a couple travel size They're Real Mascaras from Ebay for just a few dollars (the full size is $23).
Here's what's featured in the picture:
EOS Lip Balm
Viktor & Rolf Flowerbomb Hair Mist
Maybe you're a fan of Lilly Pulitzer but you don't have it in your budget for a $300 dress. In that case, here's a way to get a Lilly Pulitzer makeup bag for under $10.
A few years ago, Lilly Pulitzer had a partnership with Estee Lauder and they made these really cute makeup bags with Lilly prints to hold Estee Lauder makeup. You can now find the bags on their own for under $10 on places like Amazon and Ebay. I actually have 3 of these in different prints!
Here are some of the Lilly Pulitzer bags under $10:
(I have this one!)