Warm Cranberry Brie Bites
Affiliate Disclaimer: This page may contain affiliate links, which means we earn a commission when you buy through our link (at no additional cost to you). Read our full Disclosure Policy.
These warm cranberry brie bites are a great appetizer during the fall and winter seasons, especially for holiday parties or gatherings!
With warm crescent rolls, cranberry sauce, and gooey melted brie cheese, these are a fancy but easy snack to make for your next get-together to impress your guests.
Warm Cranberry Brie Bites
Maybe you'll serve them for Thanksgiving or maybe you'll use your leftover cranberry sauce to make these during a winter holiday party, or even use the green and red colors (from the cranberries and sprig of rosemary) to make a festive Christmas-themed h'ors d'oeuvre.
This recipe was contributed by Amanda Faulkner. Originally posted on my blog Tuxedo Cats and Coffee.
Cranberry Brie Bite Ingredients:
1 wheel of Brie cheese
1 can of crescent sheets (or crescent dough)
1 can whole cranberry sauce
Fresh rosemary
Instructions for Cranberry Brie Bites:
Lightly flour a countertop.
Roll out a sheet of crescent dough. If you can't find the whole sheets, you can use the crescent rolls, just pinch the perforated lines to make them whole.
Using a knife or pizza cutter, slice into 12 pieces. If using a mini muffin tin for tiny bites, cut the dough into 24 pieces.
Next, slice your cheese into 12 pieces. I cut the rind of mine, but you can leave it on if you wish. It is edible and a bit of personal preference! If using the mini pan, cut each slice in half.
Spray a muffin tin with cooking spray. Put each square of dough into the pan making sure that it forms a bit of a bowl.
Add one slice of cheese into each dough 'bowl'.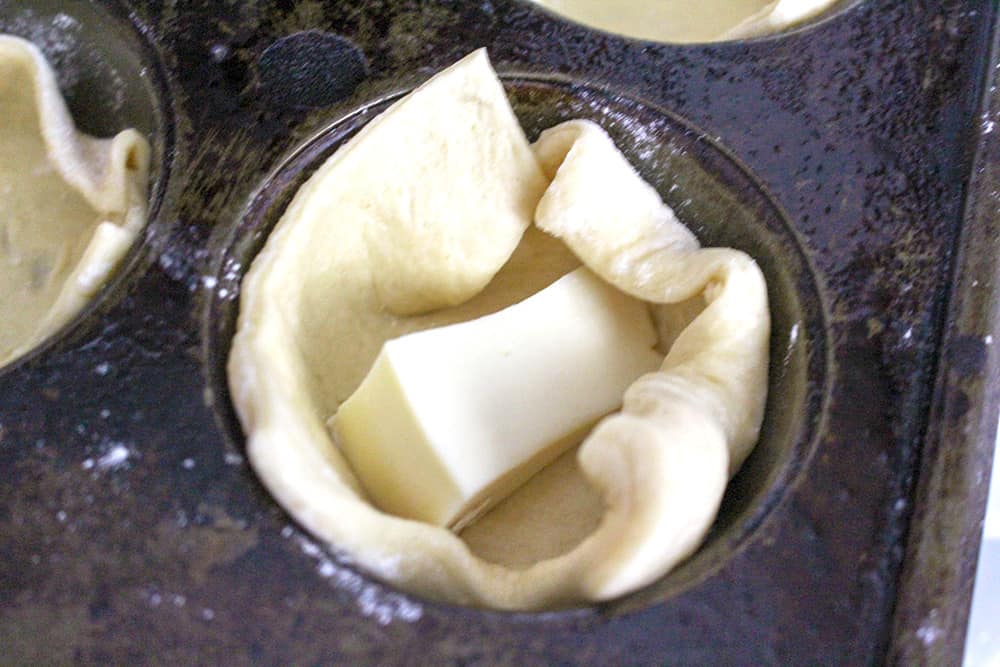 Open a can of whole cranberry sauce. Spoon some on top of each piece of cheese.
Lastly, lay a bit of fresh rosemary on top of each one.
Bake in the oven at 375 for 12-15 minutes.
Serve warm.
Plate these cranberry brie appetizers on clean white plates with sprigs of fresh rosemary for decoration on top of a red and black checked tablecloth or napkin. Perfect for a Christmas or holiday party!
Warm Cranberry Brie Bites | Cranberry Brie Appetizer