Harry Potter Chocolate Golden Snitch – How to make a golden snitch with chocolate truffles
Golden snitches are a sweet that look complicated but are actually easy to make. In the Harry Potter series the golden snitch is what players of the game Quidditch try to catch to win the game, but we turned it into a candy.  Here's how to make a golden snitch.
To make chocolate golden snitches, buy a big package of Ferrero Rocher truffles, wrapped in gold foil (most are, but some special ones aren't, so make sure you check). Take the small sticker and brown paper cup off each truffle carefully, leaving behind the intact gold foil.
Then draw patterns of wings on wax paper or vellum and cut out the shapes. Tape or glue the wings to the top or back of each truffle and you're done! We gave these away as prizes for a game.
[Also check out these posts:]
We used the golden snitches (
Ferrero Rocher truffles
with the brown paper taken off and translucent paper wings taped on) to fill the Triwizard Cup and used the dragon's egg (found them painted like this, added spray glitter) for a treasure hunt, like an Easter egg hunt but with dragon's eggs. We filled them with small candies.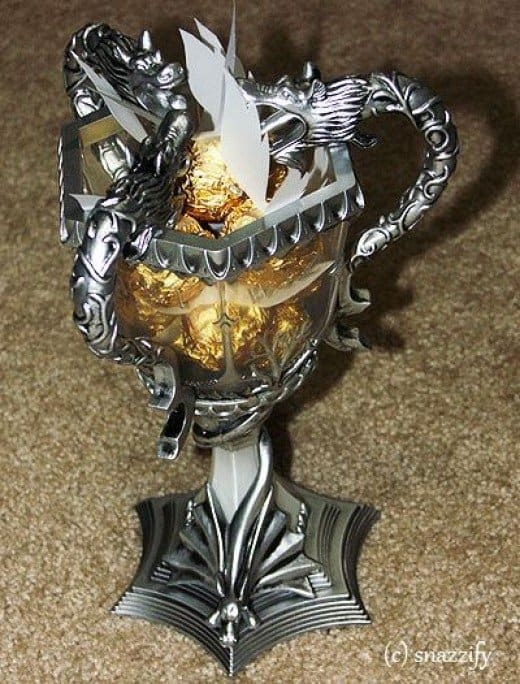 Save