Holding a Harry Potter themed party is a very worthwhile, memorable experience. If you want it to be truly amazing, you're going to put in a lot of time, but from holding my own Harry Potter event I can say it's definitely worth the commitment.  Here are a bunch of Harry Potter recipes and sweets ideas.

Harry Potter Recipes and Sweets for Parties
Of course, if you have an unlimited budget you can buy a lot of decorations, food, and candy already made or from the Harry Potter brand and that will save you time, but this lens will show you how to make all the sweet and candy and desserts from the books and movies on a low budget.
For a banquet with about forty guests, I was able to feed everyone for under $100 for all the dessert and candy with substantial leftovers (plus $400 for a catered full dinner, but that was from a restaurant and so isn't included on this post). If you want a party people are going to talk about for weeks and remember for a lifetime, plan an elaborate Harry Potter party and leave no detail behind!
Without further ado, here are all the Harry Potter sweets we served at the event.
I originally published this article around 2011 on the now-closed site Squidoo under my username snazzify. 🙂
Click here to check out our Harry Potter party ideas and decorations!
Make Your Own Honeydukes! – Create a Honeydukes shop full of candy and cupcakes for your Harry Potter party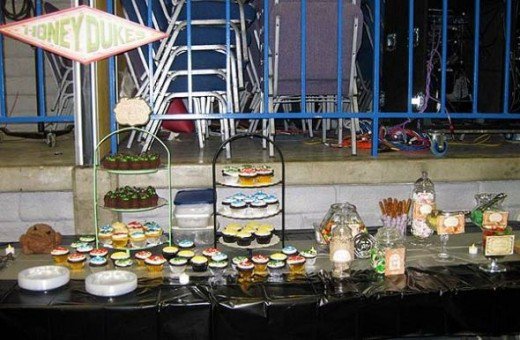 If you're planning a Harry Potter party, whether for a birthday or another event, Harry Potter sweets, including Harry Potter candy and baked goods, are essential. I held a Harry Potter-themed awards banquet at my school and made and purchased a whole lot of tasty Harry Potter-themed food, candy, cookies, and cupcakes for the event.
To make a Honeydukes sign (the name of the candy shop in the Harry Potter books), either paint it on a piece of wood cut into the shape of a diamond or print it out on a few separate pages of legal sized paper, cut off the white part of the paper, and glue it to cardboard to make it sturdier. Then just hang up the sign wherever your desserts are being displayed.
Harry Potter Cupcakes – Make cute Harry Potter cupcakes in the four house colors
Harry Potter cupcakes are a great "main course" for the dessert or candy table. Since my event wasn't a birthday party, I decided to make individual cupcakes instead of a cake. The food was a serve-yourself kind of buffet, which eliminated the problem of cutting up and serving one cake. If you're having a Harry Potter birthday, you might still want to consider cupcakes because you can make more than the number of guests in case people want more than one or other people show up.
To make the cupcakes, we used chocolate and vanilla cake box mixes from Trader Joe's , frosted them with vanilla frosting, and added sprinkles in the four house colors- Red for Gryffindor, Green for Slytherin, Yellow for Hufflepuff, and Blue for Ravenclaw.
We used gold and silver metallic cupcake liners for the house accent colors. You can also easily split your frosting into four bowls and dye the frosting in the house color so it matches the sprinkles also. We had originally planned to do that but ran out of time so we frosted them all in the same color.
Supplies Needed:
Chocolate cake mix (or make from scratch)
Vanilla cake mix (or make from scratch)
Harry Potter Lightning Bolt Cookies – Serve up some Harry Potter themed cookies
Lightning bolt cookies are another Harry Potter baked good you can serve at your party. The lightning bolt is the shape of Harry's scar. These cookies are easy to make too!
Make your favorite sugar cookie recipe. Add a few drops of yellow food coloring and mix in evenly until the dough has a nice yellow lightning bolt color. Roll the dough to about 1/4″ thick. Use a lightning bolt cookie cutter or a knife to cut the dough into the right shapes, then transfer the bolts to a cookie sheet, leaving room for them to expand, and sprinkle with yellow sparkly sprinkles. Bake according to the recipe.
Supplies needed:
Harry Potter Bertie Botts – No Harry Potter party is complete without Bertie Botts Every Flavor Beans
Bertie Botts Every Flavor Beans are an absolute must for your Harry Potter Party! They're so easy to make also. Just buy a giant bag of jellybeans (I used a 4 pound container of Kirkland's jellybeans in 49 flavors) and pour them into an apothecary jar. Print out a vintage-looking label (search for blank templates on Google images) with the name of the candy typed on it, cut and tape it on, put in a serving spoon, and you're ready to go.
Supplies Needed:
Harry Potter Chocolate Frogs – Make tasty chocolate frogs like the ones in the books
Click here for our tutorial on how to make Harry Potter chocolate frogs!
Keep Reading this Post…
Save
(Visited 9,398 times, 6 visits today)