Are you trying to save money? Do you have way too much unused and unloved makeup laying around? It might be time for a makeup use up! Here is my spring 2017 makeup use up journey and goals.
Spring 2017 Makeup Use Up
The "makeup use up" idea was inspired by some Youtubers like Elle is for Living and Thrifty Beauty and also the Project Pan project. Project Pan is basically when you pick a certain number of projects to either use up or "hit pan" on, meaning that you've reached the metal pan of the product. It's a way to save money and use the makeup you already have at home instead of buying more things.
You can also see a previous similar post I did about saving money on makeup, which is really just a twist on using Project Pan in your life.
So in this post, I'm setting some goals specifically for the remainder of spring 2017 (and there's not that much time left!). I'm in the middle of trying to use up about 8 different makeup products, pictured in the post.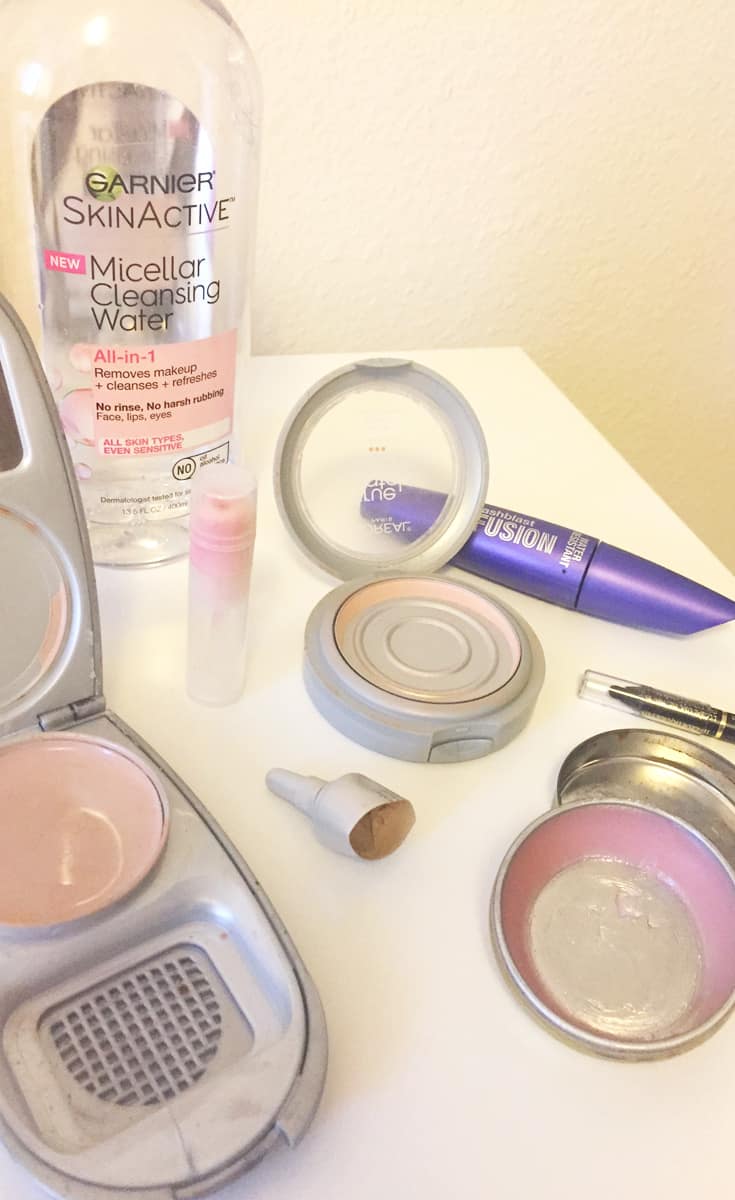 For the most part, these items are not my favorites but since they're still good, I don't have the heart to just throw them away.
The specific products I'm trying to use up before summer are the Garnier Micellar Cleansing Water (which is good for removing makeup / cleaning your face, but I didn't realize how many chemicals were in it so I'm going to use witch hazel with rose water after this), a really old Chapstick, an almost-used-up face powder, a waterproof Lashblast Fusion mascara (this is actually my favorite mascara!), a stubby little black eye pencil, some leftover foundation that I poured into a container of other leftover foundation (whoo bacteria!), a stub of a cut up container of Mary Kay concealer in a very wrong color for my skin, and a strawberry lip balm.
So besides the mascara, I wasn't a huge fan of these products but they still work so I might as well use them up instead of just chucking them out. 😃 Some of these are super close to being used up (like the pressed powder for example), so I should have no problem finishing these in the next couple months.
In the meantime, I'll try my best not to buy any new makeup. 😉 I also decided that a good way to pare things down to just products that I actually like is to make a rule that I have to use up 2 of a particular kind of product before buying a new one. For example, I'm in the market for a good red lipstick right now but I would need to use up two old lip products before buying a new one.
Have you ever done Project Pan or a makeup use up? How did it go? Let me know in the comments below. 🙂
Click here to see the results!
Save
Save